Possum Love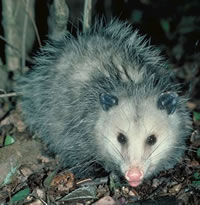 So Monday morning I stepped out onto the "smoking deck" and encountered my landlord, who pointed out to me that there was a dead opossum in our backyard. No, really, it wasn't playing possum, it was really dead, as evidenced by the fact that it was still there days later.
This made me very sad, as I have a special fondness for urban wildlife. Possums aren't the cutest things; in fact, they're kind of ugly, but they are cute to me in that "so ugly they're cute" way. I had seen a possum in our front yard close up last summer, and saw one many times in our backyard. I thought there was only one in the neighborhood and that was it for possums here.
So I'm happy to report that while I was outside a few minutes ago smoking, I heard a rustling sound. Much more than our plethora of squirrels make. I waved my arm around to make the security light go on, and there I saw it: another possum. This made me unaccountably happy.
Urban wildlife survives.